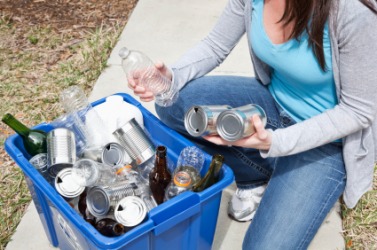 A woman recycles her glass and cans.
verb
To recycle is to use again or to reuse waste material by converting it into something new.

An example of recycle is when you return bottles, which are then processed into new glass products.
---
recycle
transitive verb
-·cled

,

-·cling
to pass through a cycle or part of a cycle again, as for checking, treating, etc.
to use again and again, as a single supply of water in cooling, washing, diluting, etc.

to treat or process in order to use again
to gather up and turn in (empty bottles and cans, old newspapers, etc.) to be so treated or processed

to alter or adapt to a new use or function: recycle an old tenement into condominiums
to use again; bring back; reuse: recycle a speech from a previous campaign
to pass through a cycle, system, etc. and return to the starting point again or repeatedly: the electronic flash recycles in 5 seconds; the water recycles through the cooling system
to engage in recycling empty bottles, old newspapers, etc.
---
recycle
verb
re·cy·cled, re·cy·cling, re·cy·cles
verb
transitive
To put or pass through a cycle again; reuse in a cycle: The coolant is recycled after it condenses.

a. To extract useful materials from (garbage or waste).

b. To extract and reuse (useful substances found in waste): recycle steel from old cars.

a. To use again: recycle old jokes.

b. To recondition and adapt to a new use or function: recycling old warehouses as condominiums.
verb
intransitive
To recycle waste materials: Residents are encouraged to recycle.
---
recycle

Verb
(third-person singular simple present recycles, present participle recycling, simple past and past participle recycled)
To break down and reuse component materials.

Recycled paper.
Recycled plastic.

To reuse as a whole.
(intransitive, ergative) To be recycled.

Sulfur recycles in the sulfur cycle.
Origin
From re- +"Ž cycle.
---