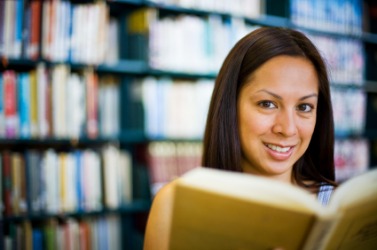 A woman has gone to the library to read up on a subject.
verb
To read up is defined as to study something or to obtain more knowledge about a given topic or subject.

An example of read up is when you go to the library to learn more information about the Earth.
---
read-up

Verb
(third-person singular simple present reads up, present participle reading up, simple past and past participle read up)
(intransitive) To learn (about something) by reading.
Usage notes
When intransitive, it is often constructed as read up on
---