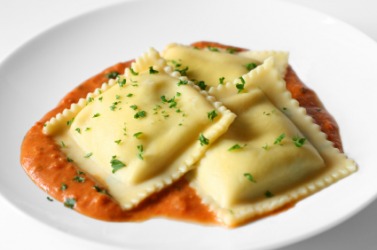 A plate of ravioli.
---
ravioli definition by Webster's New World
noun
pl. ravioli, raviolis
pasta in the form of small casings of dough, often square, filled with seasoned ground meat, cheese, etc., boiled, and served in broth or with a sauce
Origin: Italian dialect, dialectal , plural of raviolo, diminutive of rava, for Italian rapa, turnip ; from Classical Latin rapum, turnip, beet: see rape
Webster's New World College Dictionary Copyright © 2010 by Wiley Publishing, Inc., Cleveland, Ohio. Used by arrangement with John Wiley & Sons, Inc.
---
ravioli definition by American Heritage Dictionary
noun
pl.
ravioli
ravioli
or
ra·vi·o·lis
A small casing of pasta with any of various fillings, such as chopped meat or cheese.
A dish made with ravioli.
Origin: Italian, pl. of raviolo, perhaps from dialectal rava, turnip, from Latin rāpa.
ravioli
Variant of ravioli
noun
pl. ravioli, raviolis
pasta in the form of small casings of dough, often square, filled with seasoned ground meat, cheese, etc., boiled, and served in broth or with a sauce
Origin: Italian dialect, dialectal , plural of raviolo, diminutive of rava, for Italian rapa, turnip ; from Classical Latin rapum, turnip, beet: see rape