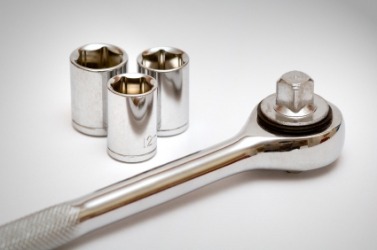 This tool is an example of a ratchet.
noun
The definition of a ratchet is a tool with a wheel and gripped interior that turns in one direction.

An example of a ratchet is the tool used to tighten a nut.
verb
To ratchet is defined as to move something up or down in small amounts.

An example of ratchet is to slowly increase the pressure on a witness; ratchet up the pressure.
---
ratchet
a toothed wheel (in full

ratchet wheel

) or bar whose teeth slope in one direction so as to catch and hold a pawl, which thus prevents backward movement
such a pawl
such a wheel (or bar) and pawl as a unit: used in some wrenches, screwdrivers, etc. to allow motion in only one direction
Origin of ratchet
earlier
rochet
from Fr, lance head, distaff from Italian
rocchetto,
bobbin, spindle, diminutive of
rocca,
distaff from Gothic an unverified form
rukka
, akin to Old High German
roccho,
spindle, distaff from Indo-European base an unverified form
ruk(k)-,
spun yarn
to (cause to) change in increments: usually with up or down: to ratchet up interest rates

---
ratchet
noun
A mechanism consisting of a pawl that engages the sloping teeth of a wheel or bar, permitting motion in one direction only.
The pawl, wheel, or bar of this mechanism.
verb
ratch·et·ed, ratch·et·ing, ratch·ets
verb
transitive
To cause to increase or decrease by increments: tried to ratchet up interest in the program.
verb
intransitive
To increase or decrease by increments.
Origin of ratchet
French
rochet
from
Old French
rocquet
head of a lance (from the shape of the teeth)
of Germanic origin
ratchet1
noun
A dance featuring ratcheting movements of the arms bent at the elbows.
adjective
Slang
Lacking in class, refinement, or good taste.
Origin of ratchet
From
ratchet
1
(
the dance being introduced in the recording "Do the Ratchet" (1999) by American rapper Anthony Mark "Mr. Mandigo" Mandigo (born 1975)
)
---
ratchet

Noun
(plural ratchets)
A mechanism composed of a ratchet wheel, or ratch and pawl.
A ratchet wrench.
(analogous) A procedure or regulation that goes in one direction, usually up.
Verb
(third-person singular simple present ratchets, present participle ratcheting, simple past and past participle ratcheted)
To cause to become incremented or decremented.

It's time to ratchet up the intensity level here.

(intransitive) To increment or decrement.
Adjective
(comparative more ratchet, superlative most ratchet)
(US, slang) ghetto (unseemly and indecorous)
---