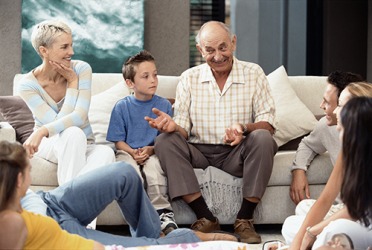 The family enjoys listening to Grandpa talk about his life because he is an exceptional raconteur.
noun
The definition of a raconteur is a person who tells stories or anecdotes in an amusing and clever way.

A person who can make a story about his day absolutely hilarious is an example of a raconteur.
---
raconteur
a person skilled at telling stories or anecdotes, esp. in an urbane or sophisticated manner
Origin of raconteur
French from
raconter,
to recount
---
raconteur
noun
One who tells stories and anecdotes with skill and wit.
Origin of raconteur
French
from
raconter
to relate
from
Old French
re-
re-
aconter
to count up, reckon
; see
account
.
---
raconteur

Noun
(plural raconteurs)
A storyteller, especially a person noted for telling stories with skill and wit.
Verb
(third-person singular simple present raconteurs, present participle raconteuring, simple past and past participle raconteured)
To make witty remarks or stories.
---