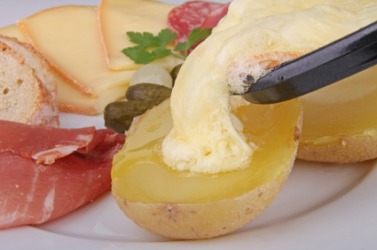 Raclette being poured onto potatoes.
Licensed from iStockPhoto
---
noun
a Swiss dish of cheese melted before an open fire, scraped onto a plate, and served with boiled potatoes and small sour pickles
Origin: Fr from racler, to scrape from Vulgar Latin an unverified form rasclare (for an unverified form rasiculare) from Classical Latin rasus, a scraping, origin, originally , past participle of radere: see rat
Webster's New World College Dictionary
Copyright © 2010 by Wiley Publishing, Inc., Cleveland, Ohio.
Used by arrangement with John Wiley & Sons, Inc.
---
noun
A Swiss dish consisting of cheese melted and served on boiled potatoes or bread.
A firm cheese used in making this dish.
Origin: French, from racler, to rake, scrape, from Provençal rasclar, to rake, from Old Provençal, from Vulgar Latin *rāsculāre, from *rāsculum, diminutive of Latin rāstrum, rake; see rēd- in Indo-European roots.
The American Heritage® Dictionary of the English Language
, 4th edition Copyright © 2010 by Houghton Mifflin Harcourt Publishing Company. Published by Houghton Mifflin Harcourt Publishing Company. All rights reserved.