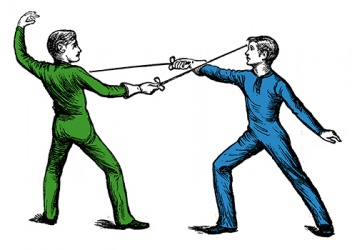 The man in green assumes the position of quinte.
noun
Quinte is the fifth position in fencing.

An example of quinte is a stance from which an attack can be made.
---
quinte
Fencing
the fifth position (of defense or parry), similar to the fourth but with the hand lower and the point farther to the left
Origin of quinte
Fr, feminine of
quint,
fifth: see quintet
---
quinte

Noun
(uncountable)
(fencing) The fifth defensive position, with the sword hand held at waist height, and the tip of the sword at knee height.
---