quetzal

quet·zal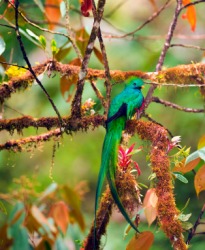 A beautiful male quetzal.
noun
Quetzal is defined as a brightly-colored, crested bird found in Central America and Mexico.

An example of a quetzal is a bright red and green bird living in western Mexico.

The definition of a quetzal is the basic form of money in Guatemala.

An example of a quetzal is what someone traveling in Guatemala would use to buy food on the street.
---
quetzal
a crested trogon bird (Pharomachrus mocinno) of Central America, usually brilliant green above and red below, with long, streaming tail feathers in the male
pl.

-·zal′es

the basic monetary unit of Guatemala
Origin of quetzal
American Spanish from Nahuatl
quetzaltototl
from
quetzalli,
tail feather +
tototls
, bird
---
quetzal
noun
pl.
quet·zals,
or
quet·za·les
Any of several tropical American birds of the genera Pharomachrus and Euptilotis having brilliant bronze-green and red plumage and, in the male, long flowing tail feathers, especially P. mocinno of Central America.
Origin of quetzal
American Spanish
from
Nahuatl
quetzalli
large brilliant tail feather
quetzal
male resplendent quetzal
Pharomachrus mocinno
---
quetzal

Noun
(plural quetzals)
A trogon of the genus Pharomacrus, especially the resplendent quetzal Pharomacrus mocinno, with very long tail feathers, found in Guatemala and Costa Rica.
Origin
From Spanish quetzal, from Classical Nahuatl quetzalli ("brightly colored tail feather, quetzal feather"), from quetza ("to raise, lift"). The Classical Nahuatl term for the quetzal bird proper was quetzaltōtōtl.
---
quetzal - Investment & Finance Definition
The currency unit of Guatemala, comprised of 100 centavos.
---