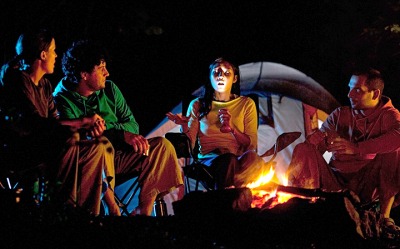 She told a scary ghost story to psych out her friends.
verb
Psych is defined as to put someone in the right frame of mind to do something.

An example of psych is a dance teacher encouraging a student before a performance.

Psych means to intimidate or scare someone.

An example of psych is telling ghost stories around a camp fire.
---
psych
transitive verb
psyched

,

psych′ing
to cause to be disturbed mentally or excited emotionally: often with up
to understand the motives or behavior of by intuition or psychological means
to intimidate or outwit: often with out
to prepare (oneself or someone) psychologically: usually with up
Origin of psych
shortened from psychoanalyze
psychiatric
psychiatry
psychological
psychology
psych-
psycho-: used before a vowel
---
psych
also psyche Informal
verb
psyched, psych·ing, psyches
verb
transitive
a. To put into the right psychological frame of mind: The coach psyched the team before the game.

b. To excite emotionally: The children were psyched to see the circus.

To undermine the confidence of by psychological means; intimidate: "Depending on whose personality is stronger, one can more easily psych the other" ( Harold C. Schonberg )

a. To analyze, solve, or comprehend.

b.

To anticipate or guess the intentions of:

"Most others could never approach

[his]

ability … to psyche out the opposition's thinking so consistently"

(

Steven Brill

)

Informal To analyze and treat by psychoanalysis.
verb
intransitive
To become confused or mentally deranged.
noun
psych
Psychology.
psych-
---
psych

Verb
(third-person singular simple present psychs, present participle psyching, simple past and past participle psyched)
To put (someone) into a required psychological frame of mind (also psych up).
To intimidate (someone) emotionally or using psychology (also psych out).
(informal) To treat (someone) using psychoanalysis.
Interjection
(slang) Indicating that one's preceding statement was false and that one has successfully fooled one's interlocutor. Also sike.
---