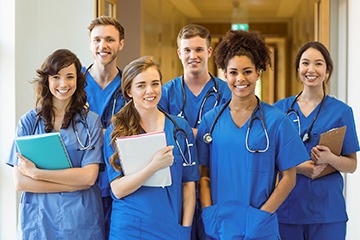 A group of medical students attending the postgraduate program at the university.
adjective
Postgraduate is defined as a course of study or an academic program that occurs after a college degree has already been obtained.

Medical school or law school are examples of programs that would be described as postgraduate programs.
noun
The definition of a postgraduate is a student who is studying a subject beyond the college level when he already has a college degree.

Someone attending medical school is an example of a postgraduate.
---
postgraduate
of or taking a course of study after graduation, esp. after receipt of the bachelor's degree
designating or of additional study, training, etc. undertaken after receipt of a doctorate
a student taking such a course
---
postgraduate
adjective
Of, relating to, or pursuing advanced study after graduation from high school or college.
noun
One who is engaged in postgraduate study.
---
postgraduate

Noun
(plural postgraduates)
Adjective
(not comparable)
---