piracy

pi·ra·cy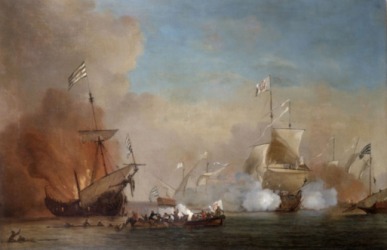 Piracy was a constant threat for ships traveling on the high seas during the 1700's and 1800's.
noun
Piracy is defined as attacking and robbing a ship at sea, or stealing someone else's intellectual property.

Robbing a ship at sea is an example of piracy.
Downloading a copyrighted song off the Internet is an example of piracy.
---
piracy
noun
pl.
-·cies
robbery of ships on the high seas
the unauthorized publication, reproduction, or use of a copyrighted or patented work
the illegal recording, transmission, or reception of radio or TV broadcasts
Origin of piracy
Medieval Latin
piratia
from Classical Greek
peirateia
from
peirat?s,
pirate
---
piracy
noun
pl.
pi·ra·cies
a. Robbery or other serious acts of violence committed at sea.

b. The hijacking of an airplane: air piracy.

Copyright or patent infringement: software piracy.
The illegal interception or use of radio or television signals.
An instance of piracy: a surge of piracies.
Origin of piracy
Medieval Latin
pīrātia
from
Late Greek
peirāteia
from
Greek
peirātēs
pirate
; see
pirate
.
---
piracy

Noun
(countable and uncountable, plural piracies)
---
piracy - Computer Definition

---
---
piracy - Investment & Finance Definition
The illegal copying of music or software programs, which deprives record and software companies and their artists of profits. In the music industry the piracy of compact disks (CDs) has become a significant problem that may significantly cut into the industry's profits. Software companies also have faced the same problem, especially in areas outside the United States where copyright laws aren't as strict.
---
piracy - Legal Definition
n
Robbery, kidnapping, or other criminal activity at sea.
Hijacking.
Illegal and unauthorized copying or distributing materials protected under copyright, trademark, or patent law. See also infringement.
---