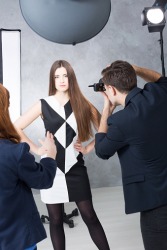 The photogenic model keeps her schedule fully booked with photo shoots.
adjective
The definition of photogenic is someone or something that photographs well and looks good on camera.

A person who always looks great in pictures is an example of someone who would be described as photogenic.
---
photogenic
due to or produced by light
producing or giving off light; phosphorescent
that looks or is likely to look attractive in photographs: said especially of a person
Origin of photogenic
photo- + -genic
---
photogenic
adjective
Attractive as a subject for photography.
Biology Producing or emitting light; phosphorescent: photogenic bacteria.
Caused or produced by light: photogenic seizures.
Related Forms:
pho′to·gen′i·cal·ly

adverb
---
photogenic

Adjective
(comparative more photogenic, superlative most photogenic)
Generated or caused by light.

The sunbather developed a photogenic melanoma on her back.

Producing or emitting light, luminescent.

The photogenic bacteria were visible in the dark room.

Looking good when photographed.

The company hired the spokesperson for his photogenic face.
---