periodicity
pe·ri·o·dic·i·ty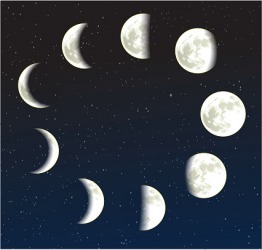 This illustration of the moon phases exhibits the periodicity of a full moon.
noun
Periodicity is the fact of something happening at regularly-spaced periods of time.

An example of periodicity is the full moon happening every 29.5 days.
---
periodicity
noun
pl.
-·ties
the tendency, quality, or fact of recurring at regular intervals

Chem.

the occurrence of similar properties in elements occupying similar positions in the periodic table
Origin of periodicity
French
périodicité
from
période:
see period
---
periodicity
noun
pl.
pe·ri·o·dic·i·ties
The quality or state of being periodic; recurrence at regular intervals.
The repetition of similar properties in chemical elements, as indicated by their positioning in the periodic table.
---
periodicity

Origin
From French périodicité
---