pedagogic

ped·a·gog·ic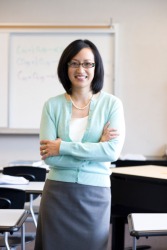 The teacher is well liked by her students because of her unconventional pedagogic style.
adjective
The definition of pedagogic is something that is connected to teachers or teaching.

An example of something pedagogic is a lecture on managing your classroom; a pedagogic lecture.
---
pedagogic
of or characteristic of teachers or of teaching
Origin of pedagogic
Classical Greek
paidag?gikos
from
paidag?gos:
see pedagogue
---
pedagogic
also ped·a·gog·i·cal
adjective
Of, relating to, or characteristic of pedagogy.
Characterized by pedantic formality: a haughty, pedagogic manner.
Related Forms:
ped′a·gog′i·cal·ly

adverb
---
pedagogic

Adjective
(comparative more pedagogic, superlative most pedagogic)
Synonym of pedagogical.
---