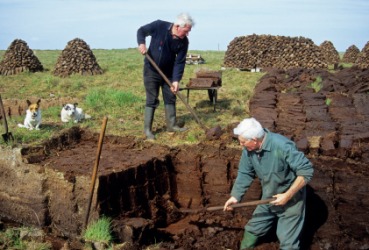 Men digging peat for fuel.
noun
Peat is a decayed plant material that takes in moisture, or the name for the dried version of this material when used as fuel.

An example of peat is a material someone may add to his or her garden.
---
peat
partly decayed, moisture-absorbing plant matter found in ancient bogs and swamps, used as a plant covering or fuel
a dried block of this used as fuel
Origin of peat
Middle English
pete
from Medieval Latin
peta,
piece of turf, probably from Celtic an unverified form
pett-,
piece from source piece, Welsh
peth
---
peat
noun
Partly decomposed vegetable matter, usually mosses, found in bogs and sometimes burned as fuel or mixed into soil to improve growing conditions.
Origin of peat
Middle English
pete
perhaps from
Medieval Latin
peta
Related Forms:
---
peat

Noun
(countable and uncountable, plural peats)
Origin
Origin unknown; perhaps a borrowing from an unattested Pictish or Brythonic source.
Noun
(plural peats)
(obsolete) A small person; a pet.
Origin
Compare pet ("a favourite").
Origin
From a Middle English pet-from of Peter.
---