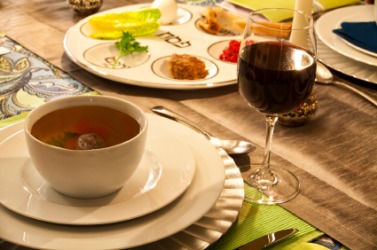 A Passover table setting.
noun
Passover is a Jewish holiday commemorating the Exodus, in which Moses freed the Jews from being slaves to the Egyptians.

An example of Passover is a Jewish holiday celebrated in March or April for between seven and eight days.
An example of Passover is the beginning of the celebration with a Seder, or special meal, and then the home must be free from chametz (leavening agent) for the duration of Passover.
---
Passover
a Jewish holiday (Pesach) celebrated for eight (or seven) days beginning on the 15th of Nisan and commemorating the deliverance of the ancient Hebrews from slavery in Egypt: Ex. 12
[p-] paschal lamb (sense )
Origin of Passover
pass + over, used to translated, translation Classical Hebrew (language)
pesach
: see Pasch
---
Passover
noun
Judaism
A holiday beginning on the 14th of Nisan and traditionally continuing for eight days, commemorating the exodus of the Hebrews from Egypt. Also called Pesach .
Origin of Passover
Translation of
Hebrew
pesah
---