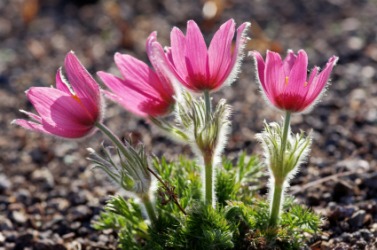 Pretty pasqueflowers.
Licensed from iStockPhoto
---
noun
any of several plants (genus Anemone) of the buttercup family; esp., a North American wildflower (A. patens) of early spring, having silky, hairy foliage and cup-shaped, bluish, solitary flowers
Origin: earlier passeflower from Middle French passefleur from passer, pass plush fleur, flower, altered by associated, association with French pasque, Pasch
Webster's New World College Dictionary
Copyright © 2010 by Wiley Publishing, Inc., Cleveland, Ohio.
Used by arrangement with John Wiley & Sons, Inc.
---
noun
Any of several plants of the genus Anemone, especially A. patens, having large blue, purple, or white flowers, each producing many conspicuously plumed achenes.
Origin: Alteration (influenced by pasque, Easter, from their flowering in April) of obsolete passeflower, from French passefleur : passer, to pass; see pass + fleur, flower; see flower.
The American Heritage® Dictionary of the English Language
, 4th edition Copyright © 2010 by Houghton Mifflin Harcourt Publishing Company. Published by Houghton Mifflin Harcourt Publishing Company. All rights reserved.