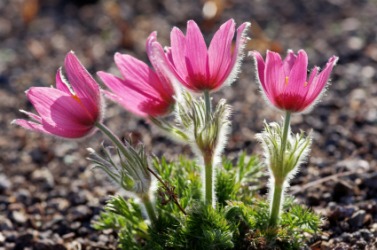 Pretty pasqueflowers.
---
pasqueflower definition by Webster's New World
noun
any of several plants (genus Anemone) of the buttercup family; esp., a North American wildflower (A. patens) of early spring, having silky, hairy foliage and cup-shaped, bluish, solitary flowers
Origin: earlier passeflower ; from Middle French passefleur ; from passer, pass plush fleur, flower, altered by associated, association with French pasque, Pasch
Webster's New World College Dictionary Copyright © 2010 by Wiley Publishing, Inc., Cleveland, Ohio. Used by arrangement with John Wiley & Sons, Inc.
---
pasqueflower definition by American Heritage Dictionary
noun
Any of several plants of the genus Anemone, especially A. patens, having large blue, purple, or white flowers, each producing many conspicuously plumed achenes.
Origin: Alteration (influenced by pasque, Easter, from their flowering in April) of obsolete passeflower, from French passefleur : passer, to pass; see pass + fleur, flower; see flower.