papaya

pa·pa·ya
---
papaya
a tropical American tree (Carica papaya) of the papaya family, resembling a palm, having a bunch of large leaves at the top, and bearing a large, oblong, yellowish-orange fruit like a melon
its fruit, eaten raw or cooked, and also valued for its juice
Origin of papaya
Spanish from Carib or Arawak name of the fruit
designating a family (Caricaceae, order Violales) of tropical and subtropical dicotyledonous trees and shrubs
---
papaya
noun
An evergreen tropical American tree (Carica papaya) with a crown of large lobed leaves, widely cultivated for its large yellow edible fruit.
The fruit of this tree, having soft pink to orange flesh and numerous small black seeds. Also called In both senses also called pawpaw .
Origin of papaya
Spanish
papaya
of Arawakan origin
papaya
Carica papaya
---
papaya

Noun
(plural papayas)
The fruit of this tree.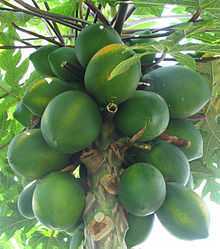 ---