paisley

Pais·ley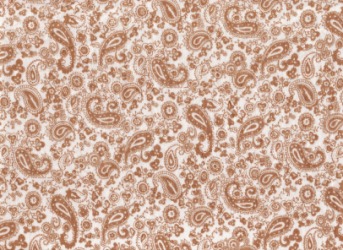 A piece of paisley fabric.
adjective
The definition of paisley refers to a pattern of colorful curved comma-shaped designs that is based on a design from India.

Fabric that has a colorful swirly pattern that is used to make curtains or a skirt is an example of paisley.
---
paisley
designating, of, or having an intricate, multicolored pattern typically of abstract curving figures resembling fat commas, used esp. for textile fabrics: originally derived from designs on cashmere shawls imported into Britain from India
made of cloth having such a pattern
Origin of paisley
after Paisley, where wool shawls in this pattern were origin, originally made (
c.
1800)
a paisley pattern
a paisley cloth, shawl, necktie, etc.

Paisley
city in SC Scotland, near Glasgow
---
paisley
adjective
Having a colorful swirled design featuring intricately patterned teardrop-shaped figures. Used especially of fabric.
noun
pl.
pais·leys
A paisley pattern or fabric.
Origin of paisley
After
Paisley
paisley
Paisley
A town of southwest Scotland west of Glasgow. It was famous as a textile center in the 1800s for its colorful patterned shawls.x
---
paisley

Adjective
(not comparable)
made from this fabric, or marked with this design
Origin
From Paisley in Scotland, where shawls of this kind were woven in the 1800s.
---