overhead projector
overhead projector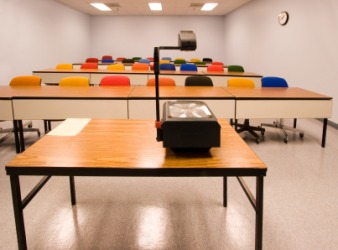 An overhead projector in a classroom.
noun
The definition of an overhead projector is a machine that causes an image from a transparent sheet to be projected onto a viewing screen.

An example of an overhead projector is what a teacher uses to show their class an enlarged version of a class assignment.
---
overhead projector
a projector having a flat, transparent top on which a sheetlike transparency is placed, and an overhead mirror that reflects the image on the transparency to a screen
---
overhead projector
noun
A projector that projects onto a screen or surface the image on a transparency placed over the projector's light source, with the image redirected by an overhead mirror.
---
overhead-projector

Noun
(plural overhead projectors)
A projector that projects an image over the heads of the viewers onto a screen in front of them
---