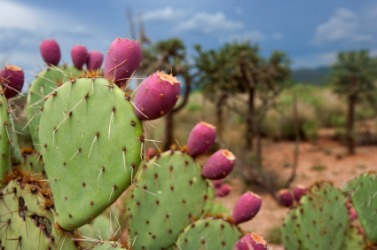 An example of an opuntia is the prickly pear cactus.
---
opuntia definition by Webster's New World
noun
any of a large genus (Opuntia) of cactus plants with red, purple, or yellow flowers, pulpy or dry berries, and fleshy, jointed stems, including the prickly pears and chollas
Origin: Modern Latin ; from Classical Latin (herba) Opuntia, (plant) of Opus, city in Locris
Webster's New World College Dictionary Copyright © 2010 by Wiley Publishing, Inc., Cleveland, Ohio. Used by arrangement with John Wiley & Sons, Inc.
---
opuntia definition by American Heritage Dictionary
noun
Any of various cacti of the genus Opuntia, especially the prickly pear.
Origin: Latin (herba) Opūntia, Opuntian (herb), feminine of Opūntius, of Opus, an ancient town of east-central Greece, from Opūs, Opūnt-, Opus, from Greek Opous, Opount-.