opuntia
[ō pun′s̸hē ə, -s̸hə]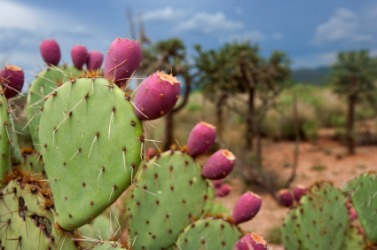 An example of an opuntia is the prickly pear cactus.
---
opuntia
noun
any of a large genus (Opuntia) of cactus plants with red, purple, or yellow flowers, pulpy or dry berries, and fleshy, jointed stems, including the prickly pears and chollas
Origin of opuntia
Modern Latin ; from Classical Latin
(herba) Opuntia,
(plant) of Opus, city in Locris
---
opuntia
noun
Any of various cacti of the genus Opuntia of the Americas, having stems with flat or cylindrical jointed segments and small easily detached spines, and including the chollas and the prickly pears.
Origin of opuntia
Latin
(herba) Opūntia
,
Opuntian (herb)
, feminine of
Opūntius, of Opus, an ancient town of east-central Greece
, from
Opūs, Opūnt-
,
Opus
, from Greek
Opous, Opount-
.
---
opuntia
Noun
(plural opuntias)
Opuntia, a genus of cactus that includes such cacti as the prickly pear and xoconostle.
---