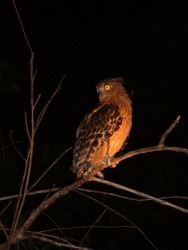 A night owl perched in a tree.
---
night owl
an owl active chiefly at night
☆ a person who works at night or otherwise stays up late
---
night owl
---
night owl
Noun
(plural night owls)
(idiomatic) One who stays up late at night or goes to bed late.

He's a night owl. He would rather stay up until 6am than wake up at that time.
---