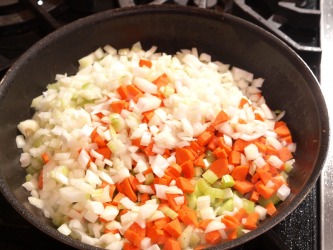 The ingredients for mirepoix.
noun
The definition of a mirepoix is a mixture of diced onions, carrots, celery and herbs that is sauteed in butter or oil.

An example of a mirepoix is 2 parts diced onions, 1 part carrots, 1 part celery and herbs sauteed in butter and used to season a stock or soup.
---
mirepoix
noun
A seasoning composed of finely diced sautéed vegetables and herbs and sometimes diced ham, bacon, or salt pork.
Origin of mirepoix
After Charles Pierre Gaston François de Lévis, Duc de
Mirepoix
(1699-1757), French diplomat
---
mirepoix

---