noun
The definition of a laser is a tool that creates a strong light beam made of atoms and molecules in an excited energy state.

An example of a laser is a tool for removing unwanted hairs.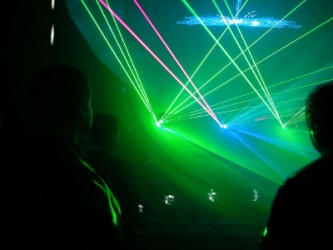 Beams of light from multiple lasers.
---
laser definition by Webster's New World
☆
noun
a device containing a substance the majority of whose atoms or molecules can be put into an excited energy state, allowing the substance to emit coherent light of a precise wavelength in an intense, narrow beam
Origin: l(ight) a(mplification by) s(timulated) e(mission of) r(adiation)
Webster's New World College Dictionary Copyright © 2010 by Wiley Publishing, Inc., Cleveland, Ohio. Used by arrangement with John Wiley & Sons, Inc.
---
laser definition by American Heritage Dictionary
noun
Any of several devices that emit highly amplified and coherent radiation of one or more discrete frequencies. One of the most common lasers makes use of atoms in a metastable energy state that, as they decay to a lower energy level, stimulate others to decay, resulting in a cascade of emitted radiation.
Origin: l(ight) a(mplification by) s(timulated) e(mission of) r(adiation).
laser
diagram showing the output stage of a ruby laser
The American Heritage® Dictionary of the English Language, 4th edition Copyright © 2010 by Houghton Mifflin Harcourt Publishing Company. Published by Houghton Mifflin Harcourt Publishing Company. All rights reserved.
---
laser - Computer Definition
A device that produces an intense, coherent, collimated, focused, and nearly monochromatic beam of radiated optical energy by stimulating electronic, ionic, or molecular transitions to lower energy levels. A laser comprises an active medium, or gain medium, and a resonant cavity. An external power source, or pump, in the form of electricity or another laser, energizes the gain medium, which absorbs the energy. Some of the particles in the gain medium are excited into quantum high-energy states. When a critical level of energy is achieved, a light signal passing through the medium produces more optical energy than is absorbed, and the signal is greatly amplified.The resulting radiated optical signal is highly coherent, i.e., consistent in phase and polarization, and virtually monochromatic.Through a resonating cavity and either mirrors or a diffraction grating, the signal is narrowly channeled and collimated, i.e., the rays are lined up so that they are virtually parallel. Fiber optic transmission systems (FOTS) in long haul applications employ semiconductor diode lasers, generally Fabry-Perot lasers or distributed feedback (DFB) lasers. Short haul transmission systems such as those associated with local area networks (LANs) more commonly employ light-emitting diodes (LEDs) or vertical cavity surface-emitting lasers (VCSELs) as light sources. (Note: The laser was patented by AT&T Bell Telephones in 1960 as the optical maser.) See also coherence, collimation, DFB laser, Fabry-Perot laser, LED, maser, pump laser, radiation, and VCSEL.
(Light Amplification by the Stimulated Emission of Radiation) A device that creates a uniform and coherent light that is very different from an ordinary light bulb. Many lasers deliver light in an almost-perfectly parallel beam (collimated) that is very pure, approaching a single wavelength. Laser light can be focused down to a tiny spot as small as a single wavelength. Laser output can be continuous or pulsed and is used in myriad applications. Gas lasers are used to cut steel and perform delicate eye surgery, while solid state lasers create the ultra-high-speed, minuscule pulses traveling in optical fibers traversing the backbones of all major communications networks. Light traveling in an optical fiber is impervious to external interference, a constant problem with electrical pulses in copper wire. See optical fiber and saser. How Does It Work? A laser is an optical oscillator, which is made out of a solid, liquid or gas with mirrors at both ends. To make the laser work, the material is excited or "pumped," with light or electricity. The pumping excites the electrons in the atoms, causing them to jump to higher orbits, creating a "population inversion." A few of the electrons drop back to lower energy levels spontaneously, releasing a photon (quantum of light). The photons stimulate other excited electrons to emit more photons with the same energy and thus the same wavelength as the original. The light waves build in strength as they pass through the laser medium, and the mirrors at both ends keep reflecting the light back and forth creating a chain reaction and causing the laser to "lase." In simple laser cavities, one mirror has a small transparent area that lets the laser beam out. In semiconductor lasers, both mirrors often transmit a beam, the second one being used for monitoring purposes.
Who Invented It?
In 1957, the laser was conceived by Gordon Gould, a graduate student in physics at Columbia University. When Gould filed for patents in 1959, he found that Columbia professor Charles Townes and Arthur Schawlow of Bell Labs had already filed for them. The year before, AT&T had, in fact, demonstrated a working laser at Bell Labs. In 1977, after years of litigation, a court awarded Gould rights to the first of three patents and later to all of them. He finally reaped millions in royalties.
Computer Desktop EncyclopediaTHIS DEFINITION IS FOR PERSONAL USE ONLYAll other reproduction is strictly prohibited without permission from the publisher.© 1981-2014 The Computer Language Company Inc. All rights reserved.
---
laser - Cultural Definition
The New Dictionary of Cultural Literacy Copyright © 2010 by Houghton Mifflin Harcourt Publishing Company. Published by Houghton Mifflin Harcourt Publishing Company. All rights reserved.
---
laser - Medical Definition
noun
Any of several devices that convert incident electromagnetic radiation of mixed frequencies to discrete frequencies of highly amplified and coherent ultraviolet, visible, or infrared radiation; used in surgery to cut and dissolve tissue.
The American Heritage® Medical Dictionary Copyright © 2010 by Houghton Mifflin Harcourt Publishing Company. Published by Houghton Mifflin Harcourt Publishing Company. All rights reserved.
---
laser - Science Definition
Short for
light amplification by stimulated emission of radiation.
A device that creates and amplifies electromagnetic radiation of a specific frequency through the process of
stimulated emission
. The radiation emitted by a laser consists of a coherent beam of photons, all in phase and having the same polarization. Lasers have many uses, such as cutting hard or delicate substances, reading data from compact disks and other storage devices, and establishing straight lines in geographical surveying.
A Closer Look
A
laser
emits a thin, intense beam of nearly monochromatic visible or infrared light that can travel long distances without diffusing. Most light beams consist of many waves traveling in roughly the same direction, but the phases and polarizations of each individual wave (or photon) are randomly distributed. In laser light, the waves are all precisely in step, or in phase, with each other, and have the same polarization. Such light is called
coherent.
All of the photons that make up a laser beam are in the same quantum state. Lasers produce coherent light through a process called
stimulated emission.
The laser contains a chamber in which atoms of a medium such as a synthetic ruby rod or a gas are excited, bringing their electrons into higher orbits with higher energy states. When one of these electrons jumps down to a lower energy state (which can happen spontaneously), it gives off its extra energy as a photon with a specific frequency. But this photon, upon encountering another atom with an excited electron, will stimulate that electron to jump down as well, emitting another photon with the same frequency as the first and in phase with it. This effect cascades through the chamber, constantly stimulating other atoms to emit yet more coherent photons. Mirrors at both ends of the chamber cause the light to bounce back and forth in the chamber, sweeping across the entire medium. If a sufficient number of atoms in the medium are maintained by some external energy source in the higher energy state—a condition called
population inversion
—then emission is continuously stimulated, and a stream of coherent photons develops. One of the mirrors is partially transparent, allowing the laser beam to exit from that end of the chamber. Lasers have many industrial, military, and scientific uses, including welding, target detection, microscopic photography, fiber optics, surgery, and optical instrumentation for surveying.
laser
the output stage of a ruby laser