noun
The definition of a laptop is a portable computer that encompasses a microprocessor, rechargeable battery, fold-down screen, keyboard and mouse.

A MacBook Air is an example of a laptop.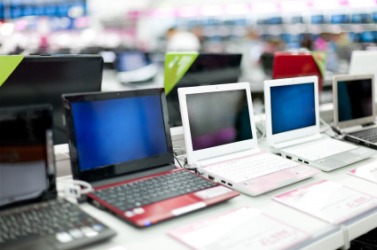 A row of laptops for sale.
---
laptop definition by Webster's New World
noun
a microcomputer small and light enough to sit on the user's lap and containing, in a single unit, a keyboard, LCD screen, microprocessor, and, usually, a rechargeable battery
Webster's New World College Dictionary Copyright © 2010 by Wiley Publishing, Inc., Cleveland, Ohio. Used by arrangement with John Wiley & Sons, Inc.
---
laptop definition by American Heritage Dictionary
noun
A portable computer small enough to use on one's lap.
The American Heritage® Dictionary of the English Language, 4th edition Copyright © 2010 by Houghton Mifflin Harcourt Publishing Company. Published by Houghton Mifflin Harcourt Publishing Company. All rights reserved.
---
laptop - Computer Definition
A portable computer with an LCD screen that weighs from two to 10 pounds (see chart below). It uses batteries for mobile use and AC power for charging and desktop use. High-end laptops provide nearly all the speed and capabilities of desktop computers. Following are their major features: Keyboard Keyboard layout is often sacrificed. Home, End, PageUp and PageDn keys may not be dedicated, requiring that you hold down the Fn key at the same time. Often unavoidable on very small laptops, these keys are cumbersome if used a lot. Most importantly, keyboards feel different. Two rules. Rule 1: spend time testing the keyboard. Rule 2: spend time testing the keyboard. See Fn key. Screen Resolution - Internal/External Today, laptops use high-quality LCD screens, and the built-in display system can also feed an external monitor or data projector. Unlike a desktop computer, you cannot replace the display subsystem, so be sure the laptop has the resolution required by the external monitor if you want to connect one. Expansion and Desktop Use Modern laptops have several USB ports and an external monitor port, making them very flexible for expansion. However, if you plan on a lot of switching between the internal and external monitors and keyboards, a docking station may be a convenient option. See docking station. Built-in Pointing Device Either a touchpad or pointing stick is built into the laptop. Try it. There are differences. A regular mouse can always be plugged in. Batteries Battery life is critical. The standard battery can usually be replaced with an extended life battery, but that adds more weight. Multimedia Watching movies requires a fast graphics processor and good speakers. Machines differ. Test drive before you buy. Weight Five pounds can be very heavy if you have to lug it around all day. To reduce weight, subnotebooks use external CD/DVD drives. Also, check the external power supply (see power adapter). This plastic brick adds more weight in your travel bag and is never included in the advertised weight. Following is a rough guide to portable computers by weight. See subnotebook, Ultrabook and netbook. Weight Range Excluding External Power Supply Category (pounds) Laptop (generic) 3 - 10 Notebook 4 - 6 Subnotebook Ultrabook 2 - 4 Netbook/Mini Laptop 2 - 3 Pocket/Smartphone 5-10 ounces
Computer Desktop EncyclopediaTHIS DEFINITION IS FOR PERSONAL USE ONLYAll other reproduction is strictly prohibited without permission from the publisher.© 1981-2014 The Computer Language Company Inc. All rights reserved.
---
laptop - Cultural Definition
A portable, compact personal computer that can run on a battery.