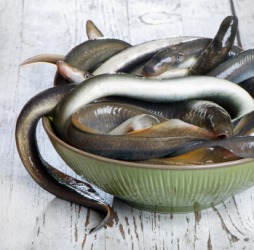 A bowl of lampreys.
---
lamprey definition by Webster's New World
noun
pl.
lampreys
any of an order (Petromyzoniformes) of jawless fishes with a funnel-shaped, sucking mouth surrounded by rasping teeth with which it bores into the flesh of other fishes to suck their blood
Origin: Middle English lampreie ; from Old French ; from Midieval Latin lampreda
Webster's New World College Dictionary Copyright © 2010 by Wiley Publishing, Inc., Cleveland, Ohio. Used by arrangement with John Wiley & Sons, Inc.
---
lamprey definition by American Heritage Dictionary
noun
pl.
lam·preys
Any of various primitive elongated freshwater or anadromous fishes of the family Petromyzontidae, characteristically having a jawless sucking mouth with rasping teeth. Also called lamper eel.
Origin: Middle English lamprei, from Old French lampreie, from Medieval Latin lamprēda.