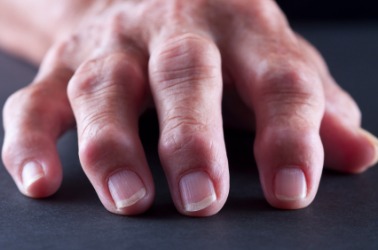 These knuckles show the signs of arthritis.
noun
The definition of knuckle is a joint at the hand or toe that sticks out when you make a fist.

The joint in the middle of your finger that sticks forward when you make a fist is an example of the knuckle.
---
knuckle
a joint of the finger; esp., the joint connecting a finger to the rest of the hand
the rounded knob formed by the bones at such a joint

the knee or hock joint and nearby parts of a pig or other animal, used as food
something resembling a knuckle, as any of the projecting, cylindrical parts through which a pin is passed to form a hinge
[pl.] brass knuckles

Archit.

the central joint in a gambrel or curb roof
Origin of knuckle
Middle English
knokyl
from or akin to Middle Dutch and Middle Low German
knokel,
diminutive of
knoke,
bone from Indo-European an unverified form
gneu?-
: for Indo-European base see knot
transitive verb
-·led

,

-·ling
to strike, press, or touch with the knuckles
knuckle down
to rest the knuckles on the ground in shooting a marble

Informal

to work energetically or seriously
knuckle under
Informal
to yield; give in
---
knuckle
noun
a. The prominence of the dorsal aspect of a joint of a finger, especially of one of the joints connecting the fingers to the hand.

b. A rounded protuberance formed by the bones in a joint.

A cut of meat centering on the carpal or tarsal joint, as of a pig.
The part of a hinge through which the pin passes.
A sharp angle formed by the meeting of two surfaces, especially two ship's timbers.
knuckles Brass knuckles.
transitive verb
knuck·led, knuck·ling, knuck·les
To press, rub, or hit with the knuckles.
To shoot (a marble) with the thumb over the bent forefinger.
Phrasal Verbs:
knuckle down
To apply oneself earnestly to a task.
knuckle under
To yield to pressure; give in.
Origin of knuckle
Middle English
knokel
---
knuckle

Noun
(plural knuckles)
(by extension) A mechanical joint.
A cut of meat.
(sports, billiards, snooker, pool) The curved part of the cushion at the entrance to the pockets on a cue sports table.
The kneejoint of a quadruped, especially of a calf; formerly used of the kneejoint of a human being.
(shipbuilding) A convex portion of a vessel's figure where a sudden change of shape occurs, as in a canal boat, where a nearly vertical side joins a nearly flat bottom.
A contrivance, usually of brass or iron, and furnished with points, worn to protect the hand, to add force to a blow, and to disfigure the person struck; a knuckle duster.

brass knuckles
Verb
(third-person singular simple present knuckles, present participle knuckling, simple past and past participle knuckled)
Origin
From Middle English knokel ("finger joint"), ultimately from a diminutive of Proto-Germanic root *knuck- "bone". Cognate with Dutch knokkel ("knuckle").
---