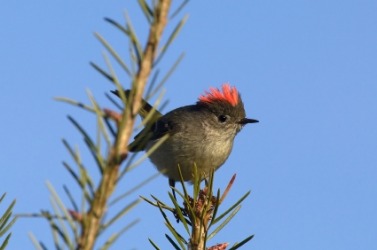 A ruby-crowned kinglet.
---
kinglet
noun
a petty, unimportant king
any of several small Old World warblers (genus Regulus) with a bright-colored crown, as the (R. satrapa) of North America
Origin of kinglet
see -let
---
kinglet
noun
Any of several small grayish birds of the widely distributed genus Regulus, having a yellowish or reddish patch on the crown of the head.
A king ruling a kingdom considered small or unimportant.
---
kinglet
Noun
(plural kinglets)
(chiefly pejorative) A petty king; a king ruling over a small or unimportant territory.
---