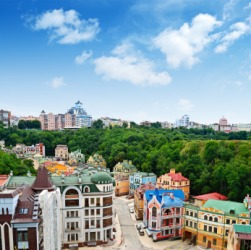 Multicolored buildings in Kiev.
---
Kiev
capital of Ukraine, on the Dnepr: pop. 2,587,000
---
Kiev
or Ky·yiv
The capital and largest city of Ukraine, in the north-central part of the country on the Dnieper River. Founded in the fifth century, it became the capital of Kievan Russia in the ninth century. Invaded by the Mongols in 1240, Kiev passed to Lithuania in the 14th century, became part of the Russian empire in 1686, and was ceded to the USSR in 1920.
---
Kiev
---