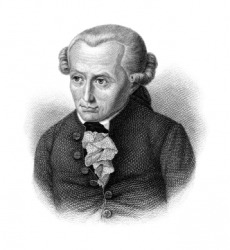 Immanuel Kant, the founder of Kantianism.
noun
Kantianism is defined as a branch of philosophy that follows the works of Immanuel Kant who believed that rational beings have dignity and should be respected.

A philosophy of rational morality including God and freedom, based on the works of Kant, is an example of Kantianism.
---
Kantianism
the philosophy of Kant, who held that the content of knowledge comes a posteriori from sense perception, but that its form is determined by a priori categories of the mind: he also declared that God, freedom, and immortality, although they cannot be proved or disproved, are necessary postulates of a rational morality
---
kantianism

---