Judas

Ju·das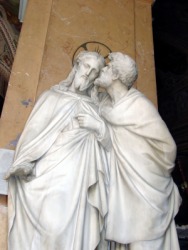 Judas' betrayal of Christ.
noun
The definition of Judas is a term used for someone who betrays you while pretending to be your friend.

An example of a Judas is the apostle who betrayed Jesus in the Bible.
---
Judas
Bible

Judas Iscariot, the disciple who betrayed Jesus: Matt. 26:14, 48

Bible

Jude, the Apostle

Bible

a brother of Jesus and James: Mark 6:3; Matt. 13:55
a traitor or betrayer
[usuallyj-]

Archit.

a peephole or small window, as in the door of a prison cell

in full judas window (or hole)
Origin of Judas
Middle English from Ecclesiastical Late Latin from Ecclesiastical Greek
Ioudas
from Classical Hebrew (language)
yeh?dh?h,
Judah
---
Judas
noun
One who betrays another under the guise of friendship.
judas A one-way peephole in a door.
Origin of Judas
Middle English
from
Late Latin
Iūdas
Judas Iscariot
from
Greek
Ioudas
from
Hebrew
yəhûdâ
Judah
---
judas

---