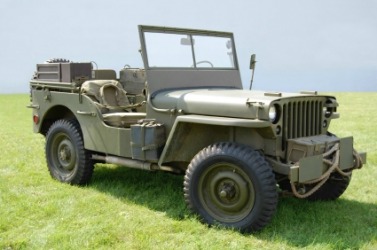 A World War II army jeep.
---
Jeep definition by Webster's New World
☆
noun
a small, rugged automotive vehicle with a -ton capacity and a four-wheel drive, used by U.S. armed forces in WWII
Origin: origin, originally military slang, after a creature (Eugene the Jeep) with extraordinary powers, in comic strip by E. C. Segar (1894-1938): later associated, association with G.P., abbreviation, abbreviated for General Purpose Car
a similar vehicle for civilian use
Webster's New World College Dictionary Copyright © 2010 by Wiley Publishing, Inc., Cleveland, Ohio. Used by arrangement with John Wiley & Sons, Inc.
---
Jeep definition by American Heritage Dictionary
noun
A small, durable, general-purpose motor vehicle with four-wheel drive and a quarter-ton capacity, used by the U.S. Army during and after World War II.
Origin: Probably pronunciation of the letters GP, designation for this vehicle in the manufacturer's parts numbering system : G(overnment) + P, designator for 80-inch wheelbase reconnaissance car.
A trademark used for a civilian motor vehicle.
Jeep
Variant of jeep
☆
noun
a small, rugged automotive vehicle with a -ton capacity and a four-wheel drive, used by U.S. armed forces in WWII
Origin: origin, originally military slang, after a creature (Eugene the Jeep) with extraordinary powers, in comic strip by E. C. Segar (1894-1938): later associated, association with G.P., abbreviation, abbreviated for General Purpose Car
a similar vehicle for civilian use