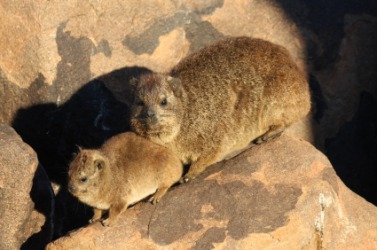 A daman, or hyrax with cub.
---
hyrax
noun
pl. hyraxes or hyraces
any of an order (Hyracoidea) of small, rodentlike mammals of Africa and SW Asia that feed on plants and live in rocky areas (genus Procavia) or in trees (genera Dendrohyrax and Heterohyrax)
Origin of hyrax
Modern Latin ; from Classical Greek shrew mouse ; from Indo-European base an unverified form
swer-
, to hum, buzz from source swarm
---
hyrax
noun
pl.
hy·rax·es
or
hy·ra·ces
Any of several herbivorous mammals of the family Procaviidae of Africa and the Middle East, resembling woodchucks or similar rodents but more closely related to the hoofed mammals. Also called coney1, dassie.
Origin of hyrax
New Latin, from Greek
hurax
,
shrew mouse
.
---
hyrax
Origin
From Ancient Greek ὕραξ (hurax, "shrewmouse").
---