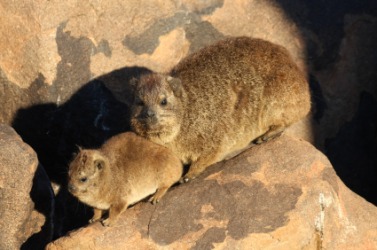 A daman, or hyrax with cub.
---
daman
noun
hyrax
Origin of daman
Arabic
damān Isrā'īl
, sheep of Israel
small region on the coast of NW India: part of the territory of Daman and Diu
---
daman
A former Portuguese colony of northwest India on the eastern shore of the Gulf of Khambhat. It was acquired by the Portuguese in 1539 and annexed by India in 1962.
---
daman
Noun
(plural damans)
The hyrax.
Proper noun
Capital of the union territory of Daman and Diu (India).
A male given name used in India, derived from the Sanskrit equivalent of Ancient Greek Damian, the brother of Cosmas.
---