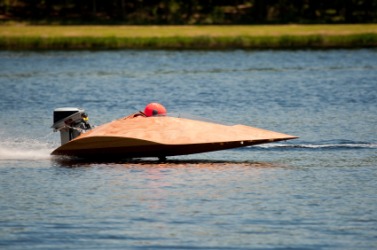 A hydroplane racing boat.
---
hydroplane
☆
noun
a small, light motorboat with hydrofoils or with a flat bottom rising in steps to the stern so that it can skim along the water's surface at high speeds
seaplane
an attachment for an airplane that enables it to glide along on the water
a horizontal rudder used to submerge or raise a submarine
Origin of hydroplane
hydro- + plane
intransitive verb
hydroplaned, hydroplaning
to drive or ride in a hydroplane
to skim along on a film of liquid without touching the surface beneath, as vehicle tires on a wet road
---
hydroplane
noun
See seaplane.
A motorboat designed so that the prow and much of the hull lift out of the water and skim the surface at high speeds.
See hydrofoil.
A horizontal rudder on a submarine.
intransitive verb
hy·dro·planed
,
hy·dro·plan·ing
,
hy·dro·planes
To drive or ride in a hydroplane.

a. To skim along on the surface of the water.

b. To be or go out of control by skimming along the surface of a wet road. Used of a motor vehicle.
hydroplane
---
hydroplane
Verb
(third-person singular simple present hydroplanes, present participle hydroplaning, simple past and past participle hydroplaned)
Noun
(plural hydroplanes)
Origin
From hydro- "water" + plane
---