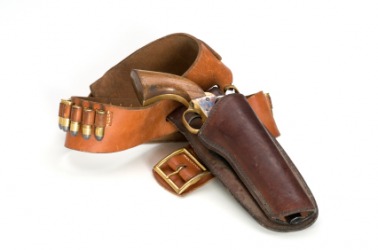 A gun in its holster.
Licensed from iStockPhoto
---
noun
a pistol case, usually of leather and attached to a belt, saddle, or shoulder strap
Origin: Du, akin to Gothic hulistr, a cover, Old Norse hulstr, a sheath, Old English heolstor, darkness, cover from Indo-European base an unverified form el-, to conceal (from source hall, hull) plush Germanic noun suffix -stra-
transitive verb
to place in a holster
Webster's New World College Dictionary
Copyright © 2010 by Wiley Publishing, Inc., Cleveland, Ohio.
Used by arrangement with John Wiley & Sons, Inc.
---
noun
A case of leather or similar material into which a pistol fits snugly and which attaches to a belt, strap, or saddle so that it may be carried or transported.
A belt with loops or slots for carrying small tools or other equipment.
transitive verb
hol·stered
,
hol·ster·ing
,
hol·sters
To put (a gun, for example) in a holster.
Origin: Probably Dutch, alteration of holfter, hulfter, from Middle High German hulffter, case, sheath, quiver, covering, from hulft, from Old High German; see kel-1 in Indo-European roots.
Related Forms:
The American Heritage® Dictionary of the English Language
, 4th edition Copyright © 2010 by Houghton Mifflin Harcourt Publishing Company. Published by Houghton Mifflin Harcourt Publishing Company. All rights reserved.