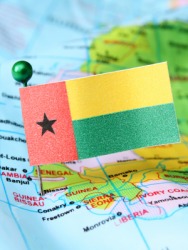 The flag of Guinea-Bissau marks its location on a map.
---
Guinea-Bissau
country in W Africa, on the coast between Guinea & Senegal: formerly a Portuguese territory, it became independent in 1973: 13,948 sq mi (36,125 sq km); pop. 777,000; cap. Bissau
---
Guinea-Bissau
A country of western Africa on the Atlantic Ocean. Populated by Fulani, Malinke, and other West African peoples, it was first visited by the Portuguese in the 1400s and later became a Portuguese colony (1879). After more than ten years of fighting by secessionist guerrillas, the country achieved independence in 1974. Bissau is the capital and the largest city.
Guinea-Bissau
---
Guinea-Bissau
---