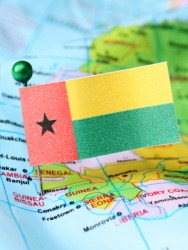 The flag of Guinea-Bissau marks its location on a map.
Licensed from iStockPhoto
---
country in W Africa, on the coast between Guinea & Senegal: formerly a Portuguese territory, it became independent in 1973: 13,948 sq mi (36,125 sq km); pop. 777,000; cap. Bissau
Webster's New World College Dictionary
Copyright © 2010 by Wiley Publishing, Inc., Cleveland, Ohio.
Used by arrangement with John Wiley & Sons, Inc.
---
A country of western Africa on the Atlantic Ocean. Populated by Fulani, Malinke, and other West African peoples, it was first visited by the Portuguese in the 15th century and later became a Portuguese colony (1879). After more than ten years of fighting by secessionist guerrillas, the country achieved independence in 1974. Bissau is the capital and the largest city. Population: 1,470,000.
Guinea-Bissau
The American Heritage® Dictionary of the English Language
, 4th edition Copyright © 2010 by Houghton Mifflin Harcourt Publishing Company. Published by Houghton Mifflin Harcourt Publishing Company. All rights reserved.