graffiti

graf·fi·ti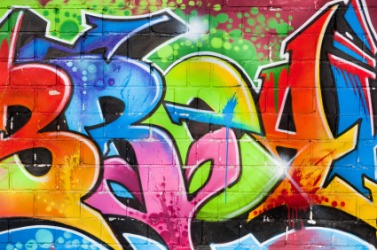 Graffiti on a wall.
noun
The definition of graffiti is writing, drawing, or other marks on a wall where it does not belong.

When someone scrawls a gang symbol on the side of a public building, this is an example of graffiti.
---
graffiti
plural noun
sing.
-·fi′to
[now usually with sing. v.] inscriptions, slogans, drawings, etc. scratched, scribbled, or drawn, often crudely, on a wall or other public surface
Origin of graffiti
It, scribblings from
graffio
, a scratch from Classical Latin
graphium
: see graft
---
graffiti
noun
used with a sing. or pl. verb
Drawings or inscriptions made on a wall or other surface, usually without permission and so as to be seen by the public.
Origin of graffiti
Italian
pl. of
graffito
; see
graffito
.
Usage Note: The word graffiti is a plural noun in Italian. In English graffiti is far more common than the singular form graffito and is mainly used as a singular noun in much the same way data is. When the reference is to a particular inscription (as in There was a bold graffiti on the wall ), the form graffito would be etymologically correct but might strike some readers as pedantic outside an archaeological context. There is no substitute for the singular use of graffiti when the word is used as a mass noun to refer to inscriptions in general or to the related social phenomenon: Graffiti is a major problem for the Transit Authority Police.
---
graffiti

---