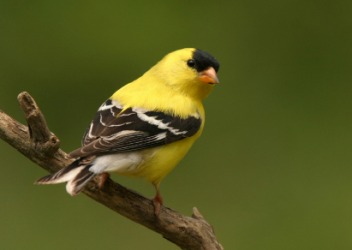 A goldfinch perched on a branch.
---
goldfinch
noun
any of various yellow-and-black finches; esp., a Eurasian songbird (Carduelis carduelis) or an American species (C. tristis)
Origin of goldfinch
Middle English ; from Old English
goldfinc
: see gold and amp; finch
---
goldfinch
noun
Any of several small American finches of the genus Spinus, especially S. tristis, of which the male has yellow plumage with a black forehead, wings, and tail.
A small finch (Carduelis carduelis) of Eurasia and Africa, having brownish plumage with black-and-yellow wings and a red patch across the face.
---
goldfinch
Noun
(plural goldfinches)
---