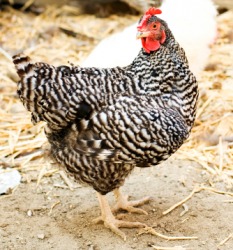 A chicken is a gallinaceous.
---
gallinaceous definition by Webster's New World
adjective
of an order (Galliformes) of birds that nest on the ground, including turkeys, chickens, pheasants, and grouse
Origin: Classical Latin gallinaceus ; from gallina, hen ; from gallus, a cock
Webster's New World College Dictionary Copyright © 2010 by Wiley Publishing, Inc., Cleveland, Ohio. Used by arrangement with John Wiley & Sons, Inc.
---
gallinaceous definition by American Heritage Dictionary
adjective
Of, belonging to, or characteristic of the order Galliformes, which includes the common domestic fowl as well as the pheasants, turkeys, and grouse.
Relating to or resembling the domestic fowl.
Origin: From Latin gallīnāceus, of poultry, from gallīna, hen, feminine of gallus, cock; see gal- in Indo-European roots.
Related Forms: