noun
The definition of a fry-up is a British term for a dish with multiple fried foods on a plate.

An example of a fry-up is eating fried eggs, fried bacon and fried tomatoes for breakfast in London.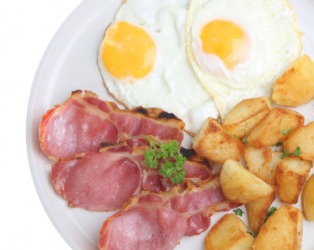 A breakfast fry-up.
---
fry-up
noun
Brit., Informal
a dish consisting of several fried foods served together, as eggs, sausage, and kidneys
---
fry-up
Noun
(plural fry-ups)
Alternative spelling of fry up.
Noun
(plural fry ups)
(UK, idiomatic) a breakfast made of tomatoes, scrambled eggs, fried eggs, bacon, sausages, hash browns, baked beans, black pudding, chips, toast and mushrooms (any combination thereof); full English breakfast

While fattening, a fry up is without doubt my favourite way to start the day.
---