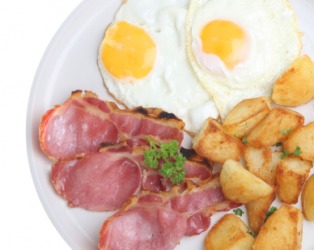 A breakfast fry-up.
noun
The definition of a fry-up is a British term for a dish with multiple fried foods on a plate.

An example of a fry-up is eating fried eggs, fried bacon and fried tomatoes for breakfast in London.
---
fry-up
Brit., Informal
a dish consisting of several fried foods served together, as eggs, sausage, and kidneys
---
fry-up

Proper noun
A hamlet in North Yorkshire.
---