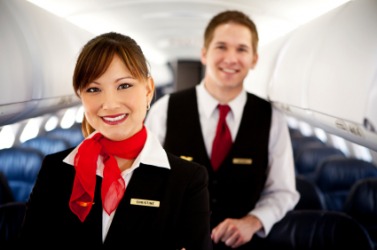 Two flight attendants.
---
flight attendant
an attendant on an airplane, employed to look after the passengers' comfort and safety
---
flight attendant
---
flight attendant
Noun
(plural flight attendants)
A member of the crew (staff) of an airplane who is responsible for the comfort and safety of its passengers.
Usage notes
The term flight attendant is somewhat less common than the older, gender-specific term stewardess, but is often preferred due to its gender-neutral nature. Another common approach is to treat steward (or, for clarity's sake, a construction such as air steward or flight steward) as a gender-neutral term.
---