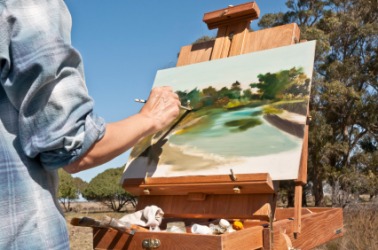 Painting is one example of fine art.
noun
Fine art is defined as drawing, sculpting, painting, literature, music, dance, architecture and theatre, or a product of these disciplines.

An example of fine art is a Picasso painting.
---
fine art
any of the art forms that include drawing, painting, sculpture, and ceramics, and, occas., architecture, literature, music, dramatic art, or dancing: usually used in pl.
artistic objects, as paintings, sculpture, etc. collectively: an exhibition of fine art
any highly creative or intricate skill
Origin of fine art
origin, originally considered purely aesthetic, as distinguished from the "useful" arts
---
fine art
noun
a. Art produced or intended primarily for beauty rather than utility.

b. often fine arts Any of the art forms, such as sculpture, painting, or music, used to create such art.

Something requiring highly developed techniques and skills: the fine art of teaching.
---
fine-art

---