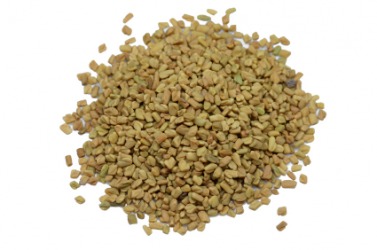 Fenugreek seeds.
---
fenugreek definition by Webster's New World
noun
a leguminous herb (Trigonella foenumgraecum) native to SE Europe and W Asia, used for forage and formerly in medicine and having seeds used in cooking
Origin: Middle English fenugrek ; from Old French fenugrec ; from Classical Latin faenum-graecum, literally , Greek hay
Webster's New World College Dictionary Copyright © 2010 by Wiley Publishing, Inc., Cleveland, Ohio. Used by arrangement with John Wiley & Sons, Inc.
---
fenugreek definition by American Heritage Dictionary
noun
A cloverlike Eurasian plant (Trigonella foenum-graecum) having white flowers. Its mildly bitter seeds and aromatic leaves are used as flavorings.
The seeds or leaves of this plant.
Origin: Middle English fenigrek, from Old French fenegrec, from Latin fēnugraecum, from fēnum Graecum : fēnum, hay; see fennel + Graecum, neuter of Graecus, Greek; see Greek.