February

Feb·ru·ar·y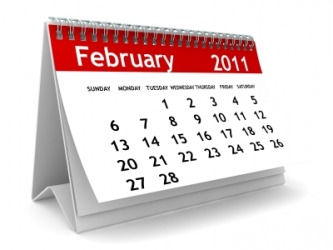 The month of February.
noun
February means the second month of the year.

An example of February is the month that comes after January.
---
February
noun
pl.

-·ar·ies

or

-·ar·ys
the second month of the year, having 28 days in regular years and 29 days in leap years: abbrev. Feb or F
Origin of February
Middle English
Februarie
from Classical Latin
Februarius (mensis)
, origin, originally , month of expiation from
februa
, Roman festival of purification held Feb. 15, plural of
februum
, means of purification, probably from Indo-European an unverified form
dhwes-
, to stir up, blow, eddy from source deer, dizzy
---
February
noun
pl.
Feb·ru·ar·ies
The second month of the year in the Gregorian calendar.
calendar
Origin of February
Middle English
Februarie
from
Latin
Februārius (mēnsis)
(month) of purification
from
februa
expiatory offerings
possibly of Sabine origin
Usage Note: The preferred pronunciation among usage writers is (fĕb′r&oomac;-ĕr′ē), but in actual usage the pronunciation (fĕb′y&oomac;-ĕr′ē) is far more common and so cannot be considered incorrect. The loss of the first r in this pronunciation can be accounted for by the phonological process known as dissimilation, whereby one of two similar or identical sounds in a word is changed or dropped so that a repetition of that sound is avoided. In the case of February, the loss of the first r was also helped along by the influence of January, which has only one r.
---
february

Proper noun
(plural Februarys or Februaries)
Usage notes
The pronunciation of the first r as /j/ has come about by dissimilation and analogy with January.
February is usually abbreviated Feb or Feb.
Origin
Re-Latinized from Middle English feoverel, from Old French feverier, from Latin februārius, of the month of purification, from februa, the Roman festival of purification, plural of februum; perhaps from Latin febris ("fever"), from Proto-Indo-European base *dhegh-, to burn.
---