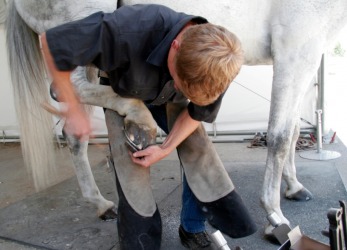 A farrier shoeing a horse.
---
farrier
noun
Chiefly Brit.
a person who shoes horses; blacksmith; also, sometimes, one who treats the diseases of horses
Origin of farrier
Middle English
ferrour
; from Old French
ferreor
; from Medieval Latin
ferrator
; from Vulgar Latin an unverified form
ferrare
, to shoe horses ; from Classical Latin
ferrum
, iron
---
farrier
noun
One who shoes horses.
Origin of farrier
Obsolete French
ferrier
, from Latin
ferrārius
,
of iron, blacksmith
, from
ferrum
,
iron
.
Related Forms:
---
farrier
Verb
(third-person singular simple present farriers, present participle farriering, simple past and past participle farriered)
Origin
From Old French ferrier, from Latin ferrarius, from ferrum ("iron").
---