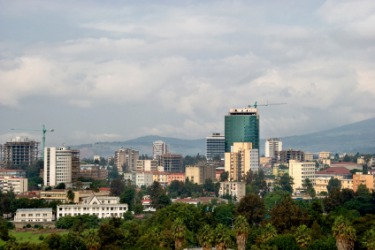 Skyline of the city of Addis Ababa, capital of Ethiopia.
---
Ethiopia
ancient kingdom (possibly dating to the 10th cent. ) in NE Africa, on the Red Sea, corresponding to modern Sudan & N Ethiopia (the country)

country in E Africa: established, 1855: 426,372 sq mi (1,104,300 sq km); pop. 49,218,000; cap. Addis Ababa
---
Ethiopia
Formerly Ab·ys·sin·i·a
A country of northeast Africa. A kingdom was established around Aksum in the 1st century AD and declined in the 7th century. After a long period of disorder, the area was finally reunited in 1889 by Emperor Menelik II, who greatly expanded Ethiopia by conquest. Italy invaded in 1935 and held the country until 1941. Following the military overthrow of Emperor Haile Selassie I (ruled 1930–1974), a socialist state was established. The country suffered enormous hardship from war with rebels from the province of Eritrea (which gained its independence in 1993) and from famine and drought. Guerrilla forces toppled the government in 1991 and implemented a new democratic constitution (1994). Addis Ababa is the capital and the largest city.
Ethiopia
---
Ethiopia
Proper noun
Country in Eastern Africa. Official name: Federal Democratic Republic of Ethiopia.
(historical) Sub-Saharan Africa, especially the parts south of Egypt and along and east of the Nile
Origin
From Ancient Greek Αἰθιοπία (Aithiopia), from Αἰθίοψ (Aithiops, "charred complexion"), from αἴθω (aithō, "I burn") + ὤψ (ōps, "eye, face, complexion").
---