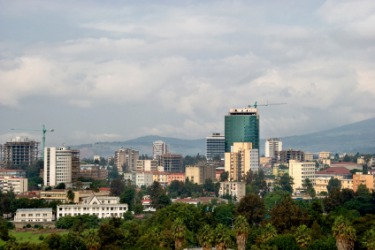 Skyline of the city of Addis Ababa, capital of Ethiopia.
---
Ethiopia definition by Webster's New World
ancient kingdom (possibly dating to the 10th cent. ) in NE Africa, on the Red Sea, corresponding to modern Sudan & N Ethiopia (the country)

country in E Africa: established, 1855: 426,372 sq mi (1,104,300 sq km); pop. 49,218,000; cap. Addis Ababa
Webster's New World College Dictionary Copyright © 2010 by Wiley Publishing, Inc., Cleveland, Ohio. Used by arrangement with John Wiley & Sons, Inc.
---
Ethiopia definition by American Heritage Dictionary
Formerly Ab·ys·sin·i·a
A country of northeast Africa. A kingdom was established around Aksum in the 1st century A.D. and declined in the 7th century. After a long period of disorder, the area was finally reunited in 1889 by Emperor Menelik II, who greatly expanded Ethiopia by conquest. Italy invaded in 1935 and held the country until 1941. Following the military overthrow of Emperor Haile Selassie (ruled 1930-1974), a socialist state was established. The country suffered enormous hardship from war with rebels from the province of Eritrea (which declared independence in 1993) and from famine and drought. Guerrilla forces toppled the government in 1991 and subsequently established a transitional government. Addis Ababa is the capital and the largest city. Population: 76,500,000.
Ethiopia
The American Heritage® Dictionary of the English Language, 4th edition Copyright © 2010 by Houghton Mifflin Harcourt Publishing Company. Published by Houghton Mifflin Harcourt Publishing Company. All rights reserved.
---
Ethiopia - Cultural Definition
Country in northeastern Africa bordered by Eritrea to the northeast, Djibouti and Somalia to the east, Kenya to the south, and Sudan to the west. Formerly called Abyssinia. Its capital and largest city is Addis Ababa.
Ethiopia is Black Africa's oldest state, tracing its history back more than two thousand years.

Of all African nations, it most successfully withstood European attempts at colonization, remaining independent throughout its history, with the exception of a six-year period (1935-1941) during which it was occupied by Italy, which was then governed by fascists (

see

fascism).

Ethiopia is one of the world's oldest Christian nations, having been converted in the fourth century.

Ethiopia was ruled from 1930 to 1936 and again from 1941 to 1974 by the powerful and charismatic Emperor Haile Selassie I (born Ras Tafari Makonnen). Called the "Lion of Judah," he claimed direct descent from the biblical King Solomon and Queen of Sheba.
Selassie was overthrown by a military junta, which proclaimed a communist government and became closely allied with the Soviet Union.

The junta was overthrown in 1991 and the first multiparty elections were held in 1995.

The country was plagued by famine and economic chaos in the 1980s and 1990s.