equipoise
[ek′wi po̵iz′, ē′kwi-]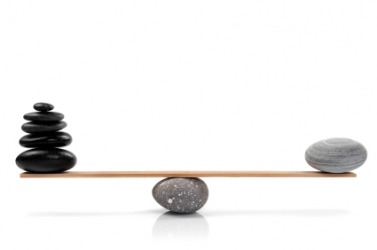 An example of equipoise.
---
equipoise
noun
equal distribution of weight; state of balance, or equilibrium
a weight or force that balances another; counterbalance
Origin of equipoise
equi- + poise
---
equipoise
noun
Equality in distribution, as of weight, relationship, or emotional forces; equilibrium.
A counterpoise; a counterbalance.
---
equipoise
Verb
(third-person singular simple present equipoises, present participle equipoising, simple past and past participle equipoised)
To act or make to act as an equipoise.
To cause to be or stay in equipoise.
Proper noun
(pharmacology, trademark) Market name for the anabolic steroid boldenone undecylenate.
---