elephant

el·e·phant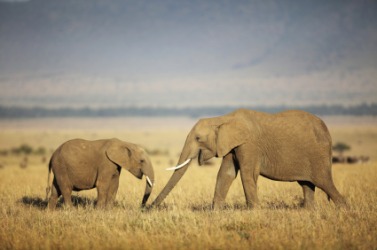 A mother elephant and her baby.
noun
The definition of an elephant is a member of the order Proboscidea which is gigantic, has a long trunk and thick skin, fan-shaped ears and is almost hairless.

An example of an elephant is the big animal at the zoo with a trunk.
An example of an elephant is the symbol of the Republican Party.
---
elephant
noun
pl.

-·phants

or

-·phant
any of an order (Proboscidea) of huge, thick-skinned, almost hairless mammals, the largest of extant four-footed animals, with a long, flexible snout (called a
trunk
) and, usually, two ivory tusks growing out of the upper jaw: the existing species are the endangered
Asian (or Indian) elephant
(
Elephas maximus
), which is commonly domesticated, and two species of
African elephant
(
Loxodonta africana
and
Loxodonta cyclotis
), which have a flatter head and larger ears
Origin of elephant
Middle English
elefaunt
from Classical Latin
elephantus
from Classical Greek
elephas
(gen.
elephantos
), elephant, ivory from uncertain or unknown; perhaps Berber
elu
, elephant + Egyptian ?
bw
, elephant, ivory
elephant in the room
an obvious, crucial factor or fact that is being ignored deliberately, as because it is unpleasant or disconcerting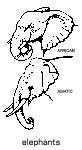 ---
elephant
noun
Any of several very large herbivorous mammals of the family Elephantidae native to Africa, South Asia, and Southeast Asia, having thick, almost hairless skin, a long, flexible, prehensile trunk, upper incisors forming long curved tusks of ivory, and, in the African species, large fan-shaped ears.
Any of various extinct animals of the family Elephantidae.
Origin of elephant
Middle English
elefaunt
from
Old French
olifant
from
Vulgar Latin
olifantus
from
Latin
elephantus
from
Greek
elephās
elephant-
elephant
top: African bush elephant
Loxodonta africana
bottom: Asian elephant
Elephas maximus
elephant
---
elephant

Noun
(plural elephants)
A mammal of the order Proboscidea, having a trunk, and two large ivory tusks jutting from the upper jaw.
(paper, printing) A printing-paper size measuring 30 inches x 22 inches.
(UK, childish) used when counting to add length.

Let's play hide and seek. I'll count. One elephant, two elephant, three elephant...
terms related to the noun elephant
Origin
Middle English elefant, elefaunt, from Old French elefant, elefan, olifant, re-latinized in Middle French as elephant, from Latin elephantus, from Ancient Greek ἐλέφας (eléphās) (gen. ἐλέφαντος (eléphantos)). Believed to be derived from an Afro-Asiatic form such as Proto-Berber *eḷu ("elephant") (compare Tamahaq (Tahaggart) êlu, (Ghat) alu) or Egyptian (ȝbw) (ābu) 'elephant; ivory'. More at ivory. Replaced Middle English olifant, which replaced Old English elpend, olfend.
See also:
éléphant
---