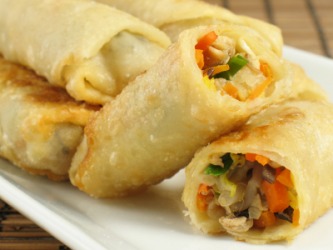 A plate of egg rolls.
---
egg roll
☆
a Chinese-American dish consisting of a thin egg pancake wrapped around minced vegetables, meat, shrimp, etc. to form a small roll that is fried in deep fat
---
egg roll
noun
A usually deep-fried cylindrical casing of thin egg dough, filled with minced vegetables and often bits of seafood or meat.
---
egg roll
Noun
(plural egg rolls)
A food made made by wrapping a combination of chopped vegetables, possibly meat, and sometimes noodles, in a sheet of dough, dipping the dough in egg or an egg wash, then deep frying it.
Usage notes
People who make a distinction often consider an egg roll to be larger and with a thicker skin than a spring roll, but many use the terms interchangably.
Adjective
egg-roll
attributive form of egg roll, noun.
---